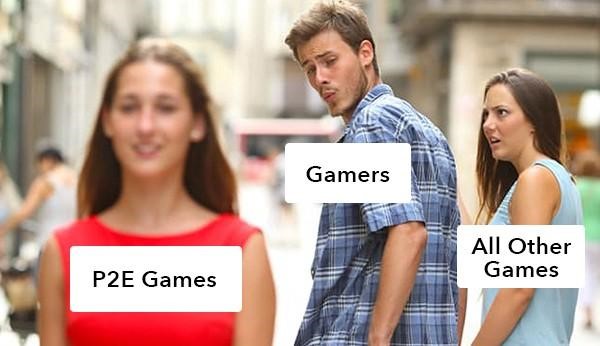 What is blockchain gaming & how does it work?
Education
June 4, 2022
Education
What is blockchain gaming & how does it work?
On June 4, 2022 by admin
You pour countless hours into your gaming experiences… spending time and money leveling up, collecting rare items and building your status in the fantasy realms of your choosing.
We all do it… and what do we have to show for it when it's time to move on to the next adventure?
NOTHING.
Don't stress thinking of all those hours you spent grinding with nothing in return… the times they are a changin'!
So what is Blockchain Gaming?
A blockchain game is a type of video game that includes elements using blockchain technologies that gives ownership to the players through NFTs.
Blockchain gaming has introduced the ability to make real money playing video games, and the video game industry will never be the same.
We're not here to take part, we're here to take over
Play to Earn (P2E) or Play & Earn (P&E) are concepts in which a game provides its players with a chance to earn in-game currency or NFT assets that can be transferred to the real world for real money.
With blockchain tech rapidly evolving every day, a powerful shift is underway in the gaming industry.
Very soon games in every genre will offer players the ability to earn life changing money.
In the past, games were played by feeding quarters into bulky machines in special gaming arcades.
As technology advanced, we paid to bring games into our homes with consoles like Nintendo, Playstation, Xbox and home computers.
More recently, smartphone gaming put "Free2Play" games in the palms of our hands, so anyone could pay to play from anywhere in the world.
What is Blockchain gaming?
It all started with CryptoKitties.
CryptoKitties was the first game to use NFTs. And was about buying, breeding and building your own personal CryptoKitty collection!
Blockchain games have now become fully developed games–ranging from strategic trading card games to tactical MMORGs with play and earn features.
To unlock play and earn features, you'll need a crypto wallet.
Here's an easy guide on how to set up your crypto wallet.
Crypto wallets allow you to own your digital assets outside the game. And have interoperability across different blockchain games through your public address.
This address is almost like a digital bank account number– and you can connect it to a blockchain game to transact your digital assets and crypto.
What is the best blockchain for games?
Blockchain games are built on different blockchain networks like Ethereum, Solana and Polygon.
These networks provide the infrastructure for blockchain functions.
Ethereum games require Ethereum wallets, Solana games require Solana wallets, and so on…
What Makes Blockchain Games Different?
One-of-a-kind digital objects
NFTs allow you to own one-of-a-kind digital objects in games— and that gives game items real world rarity, and value within a game.
In blockchain games, game items like weapons, plots of land, playable characters can be limited NFTs.
Once an NFT is minted (or created), it's recorded on the blockchain– a public ledger that cannot be altered or changed.
We can check the mint date on the blockchain to verify original items – just like we have verified check marks on social media that verify people.
Protection from hackers
Hackers love centralized servers — because they only have to hack one target to get access to all the assets.
Crypto wallets allow you to take your assets out of the game — your NFT game items, or rewards in Bitcoin or Ethereum.
The immutability of the blockchain also means hackers can't clone or tamper with any virtual items on the blockchain!
Closer to virtual reality
Blockchain games feel more like virtual realities because NFTs in the game have real world scarcity.
In metaverse games like The Sandbox, there will never be more than 166,646 plots of land. Which is much different than a game like Minecraft.
Easy Player-to-Player transactions
These plots of land exist as NFTs. Players can buy and sell land plots on the game's NFT marketplace without the hassle of sharing usernames and passwords.
Blockchain shifts the power to the players
Traditionally, game developers of video games have made all the rules — and all the money.
Blockchain effectively gives players a chance to generate revenue playing games.
Players create value for the in-game ecosystem and its community by interacting, playing and engaging in the game.
In doing so, they earn assets for their contributions to the game world.
These digital game assets might range from coins to weapons or rare items that have been tokenized as non-fungible tokens (NFTs) on the blockchain.
As a result, players can sell their tokens or NFTs for real money, and the Play to Earn/Play & Earn business model is born.
The little monsters that led the way
One of the leaders of the P2E model is Axie Infinity. In this game, Axies are cute little animals acquired and bred by players, and used in battle to win rewards.
Each Axie is an NFT (built on the Ethereum platform), meaning it's a one-of-a-kind digital collectible that can be sold or traded for real world profits.
At one point, people in the Philippines were earning $1,500-$2,000 a month in digital cryptocurrencies just by playing Axie Infinity.
Many in Vietnam also quit their full-time jobs as they were bringing home the bacon from the comfort of their living room.
High cost barrier leads to scholarship model
It can take thousands of dollars to get your gaming team off the ground… So how are these less wealthy people getting in in the first place?
Investors or whales are able to lend them assets through scholarship programs, so players can play and everyone makes money.
Typically these scholarships split profits and anywhere from 30–60% goes to the supplier of the assets.
This opens the door to a new model of investing and team building.
Don't have the time to play? Put up the cash and pay people to play for you.
It's time to get paid to play
Axie Infinity is just the tip of the iceberg… many new web3 games are popping up every day, and countless more are in development.
NFT sales already surpassed $2.5 billion in 2021 and this number is set to grow exponentially with new NFT games flooding the market.
The boom in blockchain tech and ownership in NFTs is giving birth to far more powerful revenue streams inside the blockchain gaming industry.
Those who are properly prepared have the opportunity to find generational wealth and freedom.
Don't get left behind!