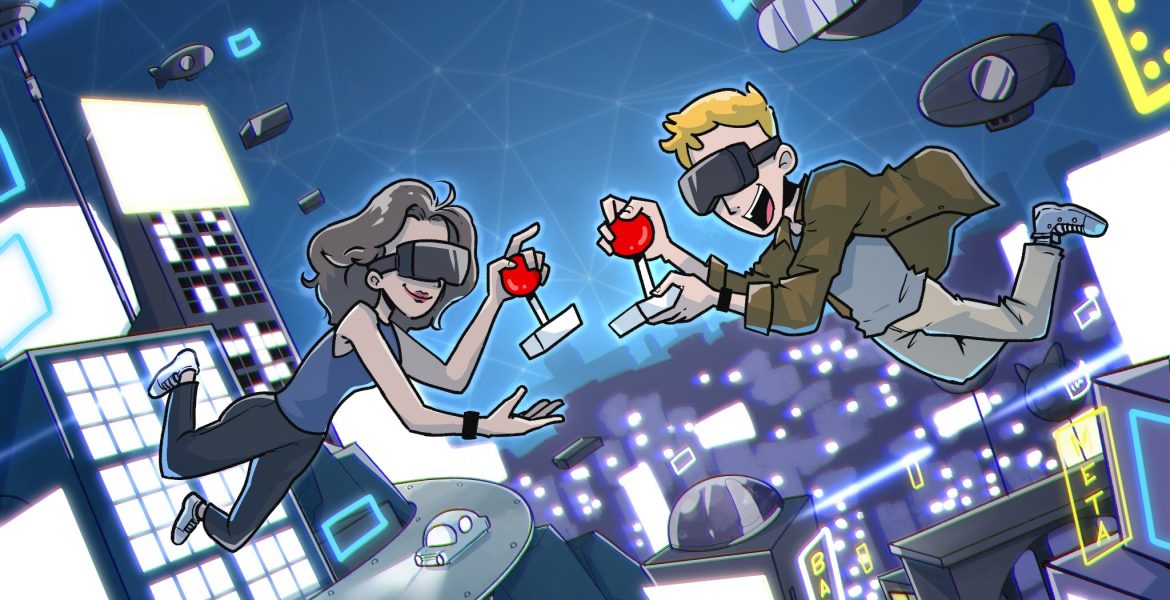 What is the Metaverse and Why Gaming will be the Gateway for Mass Adoption
Education
August 27, 2022
Education
What is the Metaverse and Why Gaming will be the Gateway for Mass Adoption
On August 27, 2022 by admin
It may seem like science fiction now, but wait till you see the projects in store for the future…
Why did Facebook change its name to Meta? And why are companies like Sony, Epic Games, Roblox and more all building metaverses right now?
In this article, we'll leave no stones left unturned. So sit back, relax, and let's jump right in on why gaming is so important to the adoption of the metaverse.
What is the Metaverse?
Neil Stephenson coined the term Metaverse in his 1992 science fiction novel 'Snow Crash'. But here's what it means when we refer to it:
A metaverse is a single, universal and immersive world that's made possible, usually but not always, through virtual reality and augmented reality headsets. It's a place where people can work, socialize and play as 'avatars'(digital representations of themselves.)
VR, or virtual reality refers to digital spaces that are accessed through hardware like the Oculus headset.
These headsets use special lens technology cameras and motion tracking controllers to fully immerse you in their digital worlds; where objects can seem real even when they aren't.
AR, or augmented reality is a similar but different technology that brings digital objects into the real world often with no headset required.
Pokemon Go is an example of AR…
Following me so far?
So companies like Sandbox, Decentraland, Meta and more, are all in a race to create the first Metaverse that gains mass adoption… and they're doing it through Metaverse games.
And these games won't just be fun…
They'll use blockchain technology to allow players to own things like land, wearables, NFTs… and even earn free money in the metaverse.
Could The Metaverse Make Us All Gamers?
If you told a person in 1950 that two thirds of the world would adopt the internet, they'd look at you like you had a tin foil hat on!
But look at where we are now.
Most of us already spend hours in virtual worlds (social media, zoom calls, games)…
So a metaverse is the next step.
Instead of watching a concert through a Youtube Live, you could attend their concert in the metaverse.
Like that time Justin Bieber threw a concert in the metaverse…
Instead of joining a listening room on Twitter, you could enter a digital conference room as an avatar in the metaverse.​​
And instead of doing meetings on Zoom, you could have a boardroom meeting in the metaverse.
How playing games in the metaverse benefits you
I just went over a few ways the metaverse can benefit you…
But one of the most popular benefits is the concept of digital ownership.
In the metaverse, you own lands, wearables, structures, pets and more.
I'll dive deep into some specific examples in a minute…
But in games like Axie Infinity, The Sandbox, and Decentraland, you can earn money playing, renting, and sharing your digital creations with others today.
Can the metaverse be the future of gaming?
Even though most are open to the idea of a metaverse, many gamers are skeptical.
Most just want to have good old fun playing good old games with no "play to earn" involved.
There will be a place for that in the metaverse. But we're still very early.
As these metaverse games get more fun, it's only natural that more gamers will adopt them, because…
What gamer DOESN'T want to get paid to play their favorite games?
The question is when will these games become fun enough to adopt more players?
No one knows exactly.
But in the meantime Sony, the creators of PlayStation, Epic Games, the makers of Fortnite and other big companies are all building in the Metaverse.
NFTs will play a lead role in the metaverse
Despite all the heat non-fungible tokens (NFTs) get in the gaming world, their utility is undeniable:
NFTs allow ownership in the metaverse.
With them, players can own a piece of their favorite game…
Trade with other players in a secure way…
And even build businesses in the metaverse leveraging NFTs.
I'll share a few examples of this now.
Prominent examples of decentralized gaming
Decentraland
Decentraland 3d virtual world where people can create and customize their own avatar, own land, play games, attend live events and interact with other players
Only 90,000 plots of land will ever exist in this metaverse.
Land owners can build on, or rent out their land for others to use just like real estate.
You can earn MANA (the native currency) through rent, casinos and even sell tickets to virtual concerts.
In this decentralized world, there's no governing authority that makes the rules. Instead its community owns the game and builds on it together.
The Sandbox
The Sandbox is another 3d virtual reality world that was built by former employees of EA, Sony and Ubisoft.
At first glance it looks similar to Minecraft…
But in this world, players are financially rewarded for their creativity.
There are 166,464 unique plots of land available in this metaverse.
Land owners can build things like museums, art galleries on their plots. And choose to monetize this experience by charging admission fees to visitors…
You can also host live events; Rappers like Snoop Dogg have hosted private parties in the Sandbox…
There's also a tool called VoxEdit that allows users to create avatars, vehicles, plans, animals, tools and other objects.
You can sell these on the marketplace for SAND (the native currency)…
And can even develop 3d games in this world without using code through a tool called Gamer Maker.
Axie Infinity
Axie Infinity is a 2d play-to-earn battle royale with a battle system similar to Pokémon.
You own pets called Axies that you can customize, breed, and battle them against each other for SLP (Smooth Love Potion)…
And you can deposit SLP directly into your Ethereum wallet.
You must own 3 Axies play. After that you can breed, trade, customize, or even flip your Axies.
But many players from developing countries use other peoples' Axies and split their earnings with the owner…
There's also options like Joystick that let you keep 100% of your earnings.
At its peak, some players were earning $1,500-$2,500/mo playing Axie Infinity.
Conclusion
At the time of writing this, we're still in the early phases of metaverses.
So if you're curious about metaverse games, it's the perfect time to do your research, play these games, and engage in communities.
The early movers in any industry are the ones who will reap the biggest rewards…
In the meantime, I hope this article demystified the Metaverse for you.
Leave an applause if you found it helpful.
Till next time!