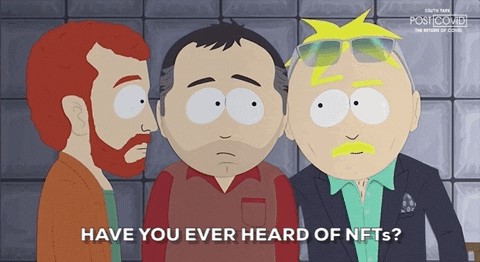 The Truth About NFTs in Video Games
Education
June 18, 2022
Education
The Truth About NFTs in Video Games
On June 18, 2022 by admin
We'll cover:
– Why are NFTs so controversial in gaming right now?
– Are NFTs a scam?
– Plus: How exactly will blockchain tech make games more fun?
So let's start with what NFTs aren't.
NFTs are more than a .jpeg you can right click, save to your computer.
An NFT can be a plot of land, an exclusive pass, a digital character in a metaverse.
We'll unpack this more in a bit…
But NFT stands for non-fungible token.
Something fungible can be duplicated, like a dollar.
But something non-fungible is a one-of-a-kind object. Like an original piece of artwork.
Blockchain technology allows us to create these original objects digitally.
The blockchain acts as a "public record" and shows who owned an NFT since its creation.
It's also immutable– Which means no one can alter or copy objects on it.
That's why NFTs got so much buzz in the art world– digital artists could create art on the blockchain and sell the original.
But right now, NFTs are getting even more buzz in the gaming world.
So let's talk about blockchain games.
We'll dive into their utility in a sec, but first, let's address the elephant in the room:
NFTs are the single most controversial topic in the gaming community right now.
There's many reasons.
Many gamers are confused about how NFTs actually improve the gaming experience…
Some see it as another money making scheme by gaming companies.
One reddit commenter puts it well:
"I don't care about owning game assets, or having sources of income, funding indies, getting stuff from one game to another or trading. I just want to waste my time having good old fun with a fun game. As far as I'm concerned, crypto stuff is an irresponsible waste of resources and energy."
We hear that loud and clear.
But there's one fact about blockchain games many ignore…
These blockchain games are very early in development.
Did you know that Legend Of Zelda Breath of the Wild took over 5 years to make?
Most great games do.
To put that in perspective, the only blockchain game around 5 years ago was CryptoKitties!
Great games take years to develop. And blockchain games are no different.
But with everybody pumping out rushed titles left and right…
It's no wonder there's this much pushback from gamers.
The race for the first AAA title is still underway (Valorant, or Call of Duty quality games).
Shoot, they might even be better.
The creators behind Assassins Creed, Dead or Alive and many others are experimenting with NFTs.
So let's talk about NFTs.
There's a lot of talk about play-to-earn; because this single feature makes every gamers childhood fantasy a reality:
You get paid to play video games.
But unlike today's blockchain games that are all about play-to-earn…
Future blockchain games revolve around one revolutionary idea:
Ownership.
In traditional gaming, the gaming company owns all the assets.
You grind for items, in game currency, skins, objects, characters, plots of land… but you don't own any of it.
In other words, you have nothing to show for the 100+ hours you poured into your favorite games.
But remember when I said NFTs allow you to own unique digital objects, characters, plots of land and more?
Imagine if you owned a weapon in Call Of Duty.
So if the franchise closed tomorrow, the weapon still sat in your crypto wallet.
This adds a whole new dimension of investment, reward, and realness to games.
Game developers are also figuring out how to let you carry these skins, weapons and characters between metaverses.
For example, love a skin in Rainbow Six Siege? Imagine being able to wear it in other first-person shooter games…
You also can participate in exclusive NFT drops.
Imagine if you owned a limited edition sword in Assassin's creed…
Then your favorite streamer won a tournament with that same weapon?
That's like owning a signed glove from your favorite boxer.
We can also create competitive games with financial risks and rewards created thanks to these technologies…
And developers continue to discover new uses that will unlock a whole new style of gaming.
It's like stepping into a whole new world of gaming.
But again, we're still early.
That's why NFTs are so controversial…
It's like half the gaming community cringes at the very mention of the word.
But here's what's interesting:
Game developers may not even call them NFTs in the future.
They'll likely call them something else; just like in-game currencies are called "COD Points" or "V-Bucks".
So gamers may not even know they're interacting with NFTs in future blockchain games.
They'll be too busy having fun!
So as controversial as NFTs are now…
As education grows, communities forge, and Triple-A blockchain titles roll out…
More gamers will come around.
These are exciting times, and we're still very early…
So enjoy the ride.