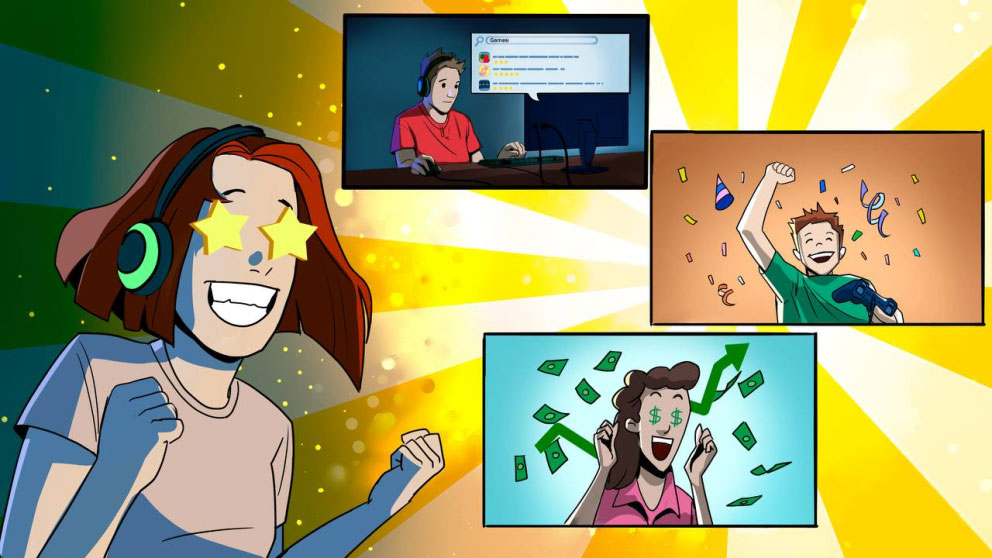 Pick the Right Blockchain Games with this 15 Question Test
Education
March 24, 2023
Education
Pick the Right Blockchain Games with this 15 Question Test
On March 24, 2023 by admin
To say blockchain games have exploded since the pandemic is an understatement.
With the massive success of games like Axie Infinity, these NFT-based
games (seemingly out of nowhere), took the world by storm.
They've given "useless jpegs" (aka NFTs) real utility.
How?
By changing video game mechanics at their core.
Gamers can now earn real world currency…
Own their in-game items (weapons, skins, collectables etc.)…
And over the next couple of years, we'll see more people able to make a living playing these metaverse games (through guilds, streaming and esports).
The blockchain community's focus has recently shifted from "play-to-earn" games to creating games that players will love and own in– with game developers from Ubisoft, Epic Games, Activision and more quietly developing games with blockchain technology behind the scenes…
But this new innovation comes with a lot to beware of…
It's important to be able to tell the scams from the real games– and that comes down to asking the right questions.
Below are 15 questions to ask before choosing a blockchain game to play.
Since some of these games require a healthy investment, being unprepared is the fastest way to lose your shirt…
Don't get rekt.
Ok ok, here are the 15 questions.
1. Is it fun?
This is one of the most important questions on this list for a few reasons:
If the game isn't fun, the only reason to play is to speculate.
But the problem with playing to speculate is the "community" will be made of others who speculate…
Once the hype around the project dies, you'll find yourself in a situation where you've invested hundreds— or even thousands in game assets that are rapidly diminishing in value.
This is why so many people lose money in the blockchain space.
But on the flip side, if you play games you think are fun…
…you'll probably be around others who play for fun, and build a real community…
…and real communities grow and flourish naturally through the network effect…
…and if the community flourishes, the value of your game assets grow…
…but the difference is, you're playing for fun– the same reason you'd invest in a regular game…
But this time, you can resell your game items when you're done– something you couldn't do in a regular game.
This is how sustainable blockchain games work.
So a good rule of thumb is to play the games you'd play for free— not the ones you think will make you the most money.
2. Does the team have a history of making games?
What's the team's track record? Is this the first video game they've worked on, or their 10th?
For instance, the web3 gaming company GALA is actually owned by the parent company Zynga– the team behind Farmville, Subway Surfer, Temple Run, and many other mobile gaming hits.
The chances of them putting out a great game is much higher than an anonymous team with no track record.
3. How long have they been building?
This can tell you a lot.
For instance, the problem with 'Gen 1' blockchain games is most of them aren't fun.

It makes sense when you realize the web3 gaming space is only 5 years old…
…early blockchain games were made by amateurs…

…the real game developers started to join the party around 2021…
…and quality games take years to make.
For example…
Call Of Duty games take 3 years to make…
Breath Of The Wild took 4 years, with 300 developers…
And God Of War took 5 years.
That's why it took until 2022 to see AAA quality games like Star Atlas hit the Epic Games store (as a free demo).
And games like Big Time are only available to Ruby Pass holders (before the open beta release).
(btw if you want early access to Big Time, follow us on Twitter and win our Ruby Pass giveaways.)
You may have to wait for these titles, but at least you know they're getting the love and attention they deserve in development.
4. Is there a story, characters, and brand IP?
Blockchain games aren't much different from regular games…
They need to suck players in with a story– and make people fall in love with the characters and brand to be successful long term.

Remember this when you're hearing promises of easy money.

If there's no story, heroes, villains, or brand…
Games that incorporate established brand's IP, or have built strong IP of their own, will have an easier time attracting new players.
5. How's the gameplay?
Please, please make sure you've seen the actual gameplay before you invest.
A game without gameplay is another red flag (and screenshots taken in Unreal Engine does NOT equal gameplay).
You should know how battling works– is it PVP (player-versus-player), PVE (player vs environment), team, or solo?
This was the Guild of Guardians pre-alpha gameplay of them exploring dungeons:
If all they've got is a fancy shiny trailer…
6. How do players make money?
This is the main reason people play blockchain games– but there are more ways to earn than through play-to-earn games…
Are you competitive? If so, a lot of MMO and FPS games are already starting to throw esports tournaments with big prize pots.
Or maybe you're charismatic. Well there's a huge opportunity to make money streaming these games.
If you're more of a casual player, you can collect in-game items and currency as you play, and sell them when you're ready to move onto another game.
Get familiar with how players make money in whatever game you pick so you know what to expect.
7. Is it easy to cash out?
How easy is it to transfer your gaming assets into real money?
An example of a game where it's easy is the mobile game – CoinHuntWorld.
In this simple game, players can explore their neighborhoods for keys that unlock quizzes. Answer correctly, and you're rewarded with BTC (Bitcoin) and Ether (the native currency of Ethereum).
Other games like Axie Infinity require you to transfer your SLP (in-game currency, Smooth Love Potion) into fiat currency.
Or if you're rewarded in NFTs, you have to wait for them to sell on marketplaces. Tokens are far more liquid and easier to trade than NFTs.
Always make sure you know how to cash out BEFORE you start a game.
8. Does the game have major differentiating features?
An example of a unique game was Fortnite. It combined FPS and building.
Its uniqueness (and its flawless integration of IP) is what made it so popular.
Also, look for games that have a jump on the competition. For example, the first game to incorporate AR (augmented reality) is likely going to ride that narrative to some level of success.
Games with unique edges are more likely to have a competitive advantage in the long run. So getting in early on these may be fruitful.
9. What will keep people coming back?
Every great game has a "game loop" that keeps people coming back.
For example, the daily rewards you get from logging into a mobile game (like Angry Birds).
The game loop can also be the community…
Online play…
Or even quests (like in Breath of the Wild):
Having something that keeps people coming back is the difference between a game you enjoy for a month…
And one you enjoy for many years.
All great games have it. So figure out, is there a "core game loop" that keeps people coming back?
10. How does the in-game economy work?
These crypto games and metaverse platforms will grow by creating demand for their in-game currency or tokens. To do that, the tokens need utility.
So what's the value of owning the token?
How are the tokens distributed amongst the community?
Are there deflationary components in place to combat inflation?
A legit blockchain game company will share all this information on their website or in their whitepaper – so take the few minutes required to dive in and read this!
You would be amazed at how far ahead of average you will be just by reading the whitepaper for any blockchain game.
11. How does land function?
Understand what land ownership means in the game.
Oftentimes, land will yield resources that can be sold on the open market within the game.
In the MMO role-playing game Big Time, land unlocks 6 different features:
Ethereum blockchain metaverse platforms like Decentraland and The Sandbox allow you to stake, host experiences, collect transactions in MANA/SAND tokens for those experiences and more:
This goes back to understanding the value of owning an NFT in the game before you invest.
12. What's the game's strategy to attract new players?
In other words, do they have a marketing plan?
Will they grow through strategic partnerships like Immutable X? Influencer marketing? Esports tournaments?
How do you figure this out? Easy. Look to the company's website and their social media channels (especially Twitter, Discord, and Medium).
13. Are there any other NFTs and utilities?
NFTs can show up in so many forms in games— land, skins, weapons, characters, collectibles and more.
You can learn what the in-game NFTs are from reading guides…
Watching YouTube tutorials…
And soon, following blockchain gaming streamers.
14. What's a whitelist, and how do you get on it?
A whitelist is a list of people who can mint NFTs before anyone else.
What's that mean?
If you believe in a project, you can buy the NFT at the ground floor prices before they're even available on the open market.
You used to have to jump through a lot of hoops to get on this list. Then it evolved to an application process where teams handpick the best fits to whitelist.
What do they look for?
Who is most engaged…
Who is active in the community…
Who is going to champion their project on social media to the public…
That's how you increase your chances of getting on the whitelist.
The main perk? If the project is a success, you can earn larger financial returns playing these games than other players.
15. Can people play for free?
Blockchain games that are free to play will have a serious advantage.
Expensive NFTs exclude many players. But free-to-play and free-to-own NFT games fix this.
If you have a smartphone, one blockchain game you can play for free today is Thetan Arena.
Conclusion
Now you know the 15 questions to ask before you play a blockchain game.
Here's the first step on your journey…
Use this list to help find your first winner in blockchain gaming.
And hey, if you think you find a diamond in the rough, share it on our Discord server. You never know what kind of doors we'll open for you!
You may also like