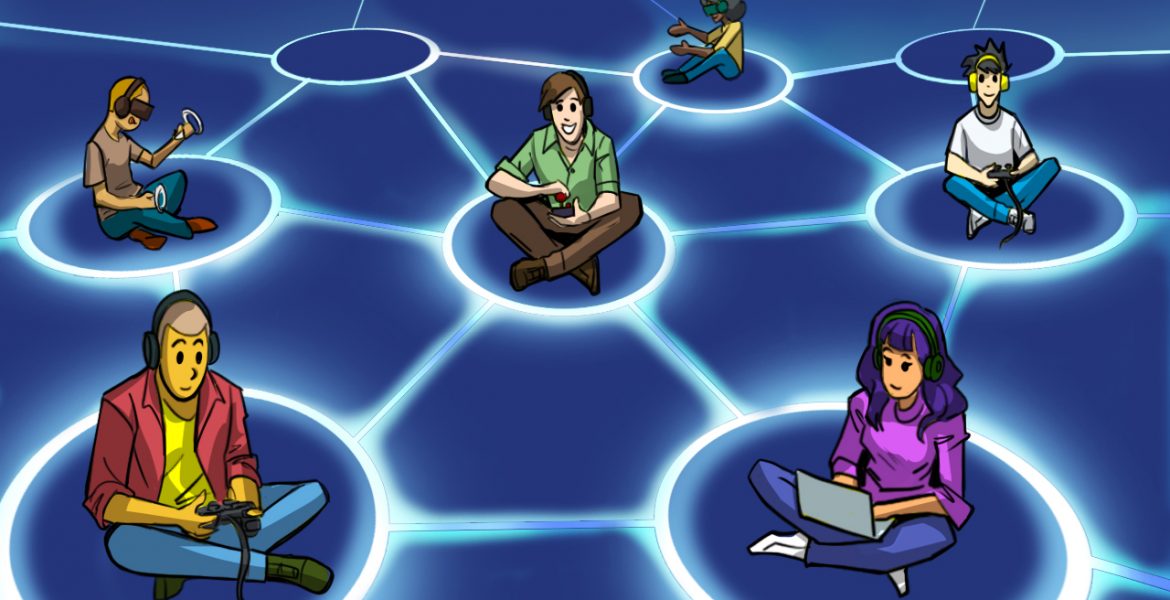 What is a DAO, and why do they matter for Gaming?
Education
March 6, 2023
Education
What is a DAO, and why do they matter for Gaming?
On March 6, 2023 by admin
Most don't truly understand DAOs in web3, and that's okay.
Here's why.
DAOs are rarely discussed as much as NFTs or play & earn…
But make no mistake– DAOs have already transformed how game developers, creators and entrepreneurs interact with their communities forever.
…and by the end of this article, you'll know why.
We'll go over everything: The good, the bad and the great when it comes to DAOs.
First off…
What is a DAO?
A DAO (or Decentralized Autonomous Organization) is the "web3" version of a company.
While a normal company is made up of an internal team of employees– a DAO is made up of its entire community.
Its players, creators, investors, community builders, and other participants.
You can also break a DAO down like this:

Decentralized – NOT controlled by a central authority.
Autonomous – Operates with little human involvement.
Organization – A community of people.
How does a DAO work?
DAOs are owned and controlled by its members through a governance system.
This system requires members to hold cryptocurrencies called governance tokens.
It's similar to having shareholder rights when owning stocks, but different.
DAOs operate on the back of a series of interconnected smart contracts with the goal of minimizing, or even removing human input entirely.
The community decides on the rules of these smart contracts– which are then coded in and executed automatically.
We'll go into what this looks like IRL in a sec…
But for now just know DAOs can be executed in many ways, from Defi protocols, to game development and more.
What do DAO members do?
DAO members vote on the rules that govern the community they're a part of.
Companies can form DAOs to let communities make decisions like what's allowed vs not allowed, updates, or even major development directions.
This allows freedom to "vote with dollars" and forces the DAO to keep its incentives aligned with those of the token holders!
Why gaming DAOs?
In the case of gaming, where venture capital funds are flowing in freely, and the industry continues to grow year after year, many would argue that we don't need DAOs…
But to understand the power of gaming DAOs, first we need to understand why DAOs have advantages over a traditional legal entity like an LLC.
Here are some of the unique benefits of DAOs…
Benefits of DAOs
Tokenized Ownership
This is the core of what differentiates DAOs from traditional companies.
Communities take equity from owning governance tokens. And owning these tokens not only allows you to vote, but can also provide exclusive benefits like airdrops, access to special groups and more.
You can freely buy or sell your tokens on secondary markets without any lengthy lock-up periods, or needing approval from other members.
One of the biggest benefits of this is members have shared ownership in their fandom.
White papers lay out the benefits of token ownership– and every DAO is different.
A New Way To Raise Capital
Creators and subreddits can have their own token to distribute to its community.
This is a new way for creators to raise capital, and rally up a community under a united cause.
A great example of this is ConstitutionDAO.
They were a group that raised money to try to buy one of the original copies of the US Constitution at the high-end auction house Sotheby's. They were able to put together $47 million as a group (at an average contribution size of $206.26)… and only lost because they were outbid by billionaire, Ken Griffin.
Full Financial Transparency
All financial inflows and outflows of a DAO are recorded publicly on the blockchain in real time.
Instead of relying on quarterly financials, or not getting any information at all, now you can track the financial health of an organization by the minute.
That's something you couldn't do before DAOs.
Transparency means stakeholders can track if the funds are being spent in a responsible manner– and this ensures the community stays aligned.
It also means stakeholders can withdraw their capital if they aren't aligned with how the DAO is operating– or create new proposals to oust certain decision makers.
Automation through Smart Contracts
In a DAO, operations can be automated with smart contracts.
Smart contracts are pieces of code that execute rules– and the community gets to decide what those rules are.
So I can have a smart contract that kicks someone from a server for saying a banned word.
Smart contracts allow DAOs to move more efficiently, transparently and trust-lessly than a regular organization– because they remove the human element.
This also reduces operating costs, turnaround times and limits the potential for human error.
This is how DAOs move faster and at smaller margins than a regular organization– and can allocate more funds into its community treasuries.
Decentralized
DAOs are decentralized by design– making them harder for hackers to attack than a regular company (because there's no centralized weak point to attack).
But what really makes DAOs different is contributors can be completely anonymous– like many web3 founders themselves (take Bitcoin creator, Satashi Nakamoto).
DAOs have contributors worldwide. And this gives opportunities for new groups of people to contribute who never otherwise could– which in gaming, could radically change development.

This allows anyone's voice to be heard, and enables the best ideas to bubble up to the surface regardless of where they might come from.
It's a more "grassroots" approach to decision-making controlled by communities– instead of the traditional top-down way of making decisions.
But decentralization can vary between DAOs.

Some DAOs may only decentralize parts of the organization, and leave other parts centralized where it makes sense.
What are some problems with DAOs?
DAOs aren't perfect– there are some issues that should be addressed.
Pay-for-Power Scenarios
One potential problem is a situation where an investor can simply buy enough tokens to have their own personal preferences reflected on the game's roadmap.
So measures need to be taken to ensure everyone has a voice, and not just the people who hold the most governance tokens.
Should Communities Control Game Development?
In gaming for example, would leaving game development decisions to anyone with a crypto wallet actually create a great game?
Does the community actually know what's best for game development?
This is one reason very few DAOs have gone as far as Decentraland to build fully decentralized games.
Some believe those decisions are better left to the experts. And it's a valid concern.

Voter Coordination
In order for a DAO to work, there needs to be a high level of alignment across large groups of people.
Some DAOs do a great job of this– DAOs like Aave and ENS have 100% voter participation.
Others like the decentralized exchange Uniswap only have a 0.4% voter participation.
Better tools could improve this (as will moving communications off of Discord and onto something more purpose-built for work collaboration), but this will take time.
Gaming DAOs
So how do DAOs actually show up in Gaming?
In gaming, DAOs allow gamers to have a voice in their gaming experience– which can create a feedback loop that hasn't existed in many web2 games.

They can also show up in gaming guilds– organizations that allow communities to participate in play & earn games with a high barrier of entry.
Let's dive into these examples.
Examples of gaming DAOs
Gaming Guilds
Gaming Guilds are organizations that buy up assets in web3 games to loan to players– or hold onto as speculative investments.
Guilds make the majority of their money off scholarship programs.
This is the practice of lending NFTs to players in exchange for some of the revenue they generate from play & earn games (usually a 70/30 split, with 70% going to the player).
Some guilds focus exclusively on games developed on one blockchain (like the Ethereum blockchain)…

Others have more diverse investment strategies– some going as far as investing in other DAOs.
The more diversified the guild is, the less they're affected by the ebb and flow of players' varying interests in titles.
Incubators & Accelerators
Incubators and accelerators are a type of DAO that exist to grow the web3 community as a whole.
They do this by providing education, funding new ventures, and providing problem solving tech that make all web3 games better.
Game7 is an example of one of these DAOs.
They provide an "open source" approach to solving some of the biggest web3 problems like onboarding new players, reinforcing open standards and interoperability to name a few.
Developers
The most ambitious DAOs go on to become game developers. Here are a few of them..
Star Atlas aims to be a AAA game with massive scale.
​​
By holding the Star Atlas governance token POLIS, you can have a say in the rules of the metaverse that govern it.
Another game is Decentraland.
Decentraland isn't so much of a game, as it is a virtual world – a platform upon which many experiences can be built, some of which happen to be games.
Decentraland DAO governs the policies created to determine how the world behaves.
This ranges from what kinds of wearable items are allowed (or disallowed) after the launch of the DAO..
Moderation of content…
LAND policy auctions…
And more.

Conclusion
DAOs are changing the way we organize gaming companies and communities as we enter the decentralized world of web3.
They serve both creators and communities, and they've already transformed the financial world.
Now they're transforming gaming.

Are DAOs the future? Will decentralizing game development lead to better games?
Only time will tell.

But one thing's for sure:
DAOs will change the way creators interact with their communities forever as we enter this new and exciting world of web3.
You may also like